Jewish Media Domination
and Why It Matters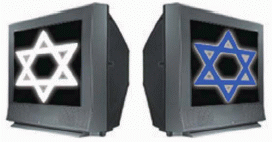 The following pages contain facts verifying Jewish media domination in America and how this influence has been used to transform American culture. Most of these facts can be easily verified in any large library or from the web sites of the giant media companies themselves.
"The Hollywood Jews created a powerful cluster of images and ideas... so powerful that, in a sense, they colonized the American imagination... Ultimately, American values came to be defined by the movies the Jews made."
-Neil Gabler, An Empire of Their Own: How the Jews Invented Hollywood.
New York, NY: Crown Publishers, 1988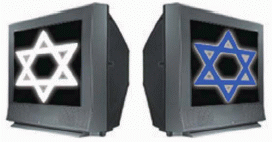 Who are these Jews who Shape
the Politics, Culture and Destiny of America?
Electronic Media

Sumner Redstone (born Murray Rothstein) – CBS; Viacom; Blockbuster; Prentice Hall;
Simon & Schuster Publishers; Pocket; Showtime; MTV; Nickelodeon; Black
Entertainment Television(!); numerous cable TV and radio companies
Joseph E. Roth – Disney Pictures; Touchstone Pictures; Hollywood Pictures
Steven Bornstein – ESPN; A&E; Lifetime; ABC Radio Network
Rob Reichbloom – Good Morning America, Exec. Producer
Paul Friedman – World News Tonight, Exec. Producer
Gerald Levin – AOL/Time Warner; Time; Sports Illustrated; HBO; CNN
Norman Pearlstine – Fortune; Time; Sports Illustrated; People
Michael Eisner – Disney; Capital Cities/ABC
Peter Chernin – Fox; Fox TV; 20th Century Fox; NY Post
Neal Shapiro – Chief of NBC News; Exec. Producer, Dateline
Ronald Perelman – New World Entertainment; Revlon
Steven Spielberg, Jeff Katzenberg, David Geffen – Dreamworks SKG
Edgar Bronfman (World Jewish Congress president) – Potygram/MCA; Universal
Jon Dolgen – Paramount Studios
Al Berman – CBS morning
Michael Schulhof – Sony America
Alan Levine – Sony Pictures
Robert Sarnoff – NBC
Andrew Lack – NBC
Jeff Zucker – NBC Entertainment
Weinstein Brothers – Miramax Films
Danny Goldberg – Warner Bros. Records
Sherry Lansing – Paramount productions
Stuart Bloomberg – ABC Programming
Laura Ziskin – Fox 2000
Leonard Goldenson – ABC
Walter Isaacson – CNN
Rick Kaplan – CNN
Roger Birnbaum – Caravan
Stuart Hersch – Warner Video
Peter Roth – Fox Entertainment
Victor Neufeld – 20/20, Exec. Producer
Rupert Murdoch (1/2 Jew) – News Corp.
Jonathan Wald – Today Show Producer
Melvin A. Karmazin – CBS TV
Resources:
• Current editions of yearbooks on the radio and television industries
• Standard biographical reference works on the individuals in questions
• Directories of newspapers and magazines
• Registers of corporations and their officers, such as those published by Standard
and Poors and by Dun and Bradstreet
Do Jews Dominate the Press?
Jewish Print Media Bosses


Above: The Jew founders of the media industries. Right: Jew media bosses of today.
Arthur O. Sulzberger – Publisher and chairman, New York Times;
Boston Globe; Family Circle; McCall's; 33 newspapers; numerous
TV & radio companies
Donald Graham – Washington Post Co.; Newsweek; Gazette
Newspapers; International Herald Tribune; various radio stations
Peter Kann – Dow Jones Co.; Wall Street Journal; Barron's; various
newspapers
Mortimer Zuckerman – NY Daily News; US News & World Rpt.;
Atlantic Monthly
Newhouse Brothers – Advance Publications (newspaper conglomerate);
Conde Nast Group; Random House; Parade; New Yorker; Vanity
Fair; Vogue; Mademoiselle; Glamour; Bride's; GQ; House & Garden
Roger Altman Tabloids – National Enquirer; Globe; Sun; Weekly World
News; National Examiner
Richard Snyder – Western Publishing (children's books)
Max Frankel – Executive Editor, NY Times
Joseph Lelyveld – Managing Editor, NY Times
Michael Silverman – Managing Editor, Associated Press
Jonathan Wolman – Executive Editor, Associated Press
Frank A. Bennack, Jr. – President & CEO, The Hearst Corporation
Leonard Stern – Village Voice
Hugh Hefner – Playboy
Resources:
• Current editions of yearbooks on the radio and television industries
• Standard biographical reference works on the individuals in questions
• Directories of newspapers and magazines
• Registers of corporations and their officers, such as those published by Standard
and Poors and by Dun and Bradstreet